June 5th, 2019 by Michael J. Lorden at Polsinelli
---
. . . they truly volunteer.
[vol-uh n-teer]: a person who performs a service willingly and without pay.
Michael Lorden breaks down what that means, helps decipher the U.S. Department of Labor's Opinion Letter and provides two voluntary guidelines.
October 8th, 2018 by hrsimple
---
You need some help with projects that are a little less than crucial and school's have students looking for some pratical experience in the working world. Sounds like a PB and J mashup no brainer, right?
Hold on Hoss, not so fast, especially since the Department of Labor adopted new rules. SHRM, with help from Littler and Fisher Phillips, provides six tips for creating a sound internship program:
meaningful tasks
coordinate with the school
check state laws
acknowledgement
evaluate
weigh the cost
October 24th, 2018 by hrsimple
---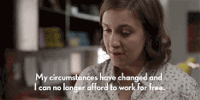 . . . is an employee who works for free. How do you tell the difference? Our authors at Polsinelli have the NEW list of 7 factors.