The dog days of summer apply to workers too
May 31st, 2019 by Shawe Rosenthal
---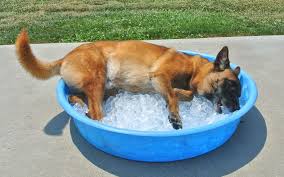 OSHA's Guidelines for Employees Working during the "Dog Days of Summer"
OSHA initially launched the "Heat Illness Prevention" campaign in 2011 to help educate employers and employees on the dangers that may arise when working in hot environments. This year, OSHA re-emphasized its plan of action and published a "Quick Card," which outlines several ways for employers to maintain the safety of their employees. Heat illness can take many forms including heat stroke, heat exhaustion, heat cramps, and heat rash.
While the "Heat Illness Prevention" campaign are only guidelines, which means that employers are not obligated to follow them, employers should note that the failure to follow these recommendations and best practices can potentially "cause death or serious harm to employees," which would result in a violation of Section 5(a)(1) of the Act.
The campaign states that employers should establish a program that:
Provides workers with water, rest and shade
Allows new or returning workers to gradually increase workloads and take more frequent breaks as they acclimatize, or build a tolerance for working in the heat
Plans for emergencies and trains workers on prevention
Monitors workers for signs of illness
Pursuant to OSHA regulations (29 CFR §§ 1915.88(b)(1) – (3)), employers are required to provide "potable water" to employees. OSHA's "Heat Illness Prevention" campaign specifically recommends that "cool drinking water" be made readily available and "easily accessible." (See https://www.osha.gov/OshDoc/data_Hurricane_Facts/heat_stress.pdf). Moreover, OSHA suggests that employers "encourage workers to drink a liter of water over one hour, which is about one cup every fifteen minutes." OSHA also recommends that outdoor workers be provided with shaded or air-conditioned areas to rest and cool down during breaks. While there is no required frequency of breaks, OSHA states that when the weather is moderately hot, workers should take 15-minute breaks every hour, but when the weather is extreme, breaks may need to occur more frequently.
OSHA also notes that workers need to take necessary time to acclimate their bodies to working in the heat. Some people can take "up to 14 days or longer" to fully acclimate to the heat. As such, OSHA recommends that "[n]ew workers and those returning from a prolonged absence … begin with 20% of the workload on the first day, increasing incrementally by no more than 20% each subsequent day."
The 2017 publication also suggests that employers make at least one individual responsible for monitoring conditions and protecting teams of employees.
This blog was written by Shawe Rosenthal, author of our Maryland Human Resources Manual. You can find the original and their Labor & Employment Report blog on their website.
BONUS #1: it's in the article.
BONUS #2: OSHA has a Heat Safety Tool app for both iPhone and Android.
---
Can't find what you're looking for?
---
Sign up for free to gain access to our complete HR Library
---
Free Webinar
Handling Real World Problems
September 19th, 2019 at 12:00pm CDT
SHRM & HRCI certified
Related posts
The following list of questions will provide a snapshot for you to use in determining whether or not you are complying with the safety and health laws and regulations that apply in the workplace.  You should know the answer to every one of these questions. Although a "No" answer does not necessar...
---
On May 17, 2019, the Centers for Disease Control and Prevention (CDC) reported that 880 individual cases of measles had been confirmed in 23 states across the country in 2019. According to the CDC, the current outbreak of measles represents the greatest number of cases reported in the United Stat...
---
12-Step Plan To Help Navigate OSHA's Continued Focus On Workplace Violence Healthcare employees are nearly five times more likely than workers in other fields to be victims of workplace violence, according to federal government statistics. Because of this disparity, the Occupational Safety and...
---
This blog was written by Debra Friedman, contributor to our New York Human Resources Manual, at Cozen O'Connor, which also authors our Pennsylvania Human Resources Manual and Minnesota Human Resources Manual. You can find the original post and their HR Headaches blog (good stuff) on their website...
---
This blog was written by William S. Rutchow at Ogletree Deakins, author of our Model Policies and Forms for Tennessee Employers. Ogletree also authors our Massachusetts Human Resources Manual, Colorado Human Resources Manual, and Employee Benefits – An Employer's Guide. You can find the original ...
---
When you think about workplace safety, you probably picture injuries and accidents, but in reality, safety means much more than that.  The hardest aspect of having a safe workplace is thinking about the unexpected threats, the freak incidents as well as the hidden everyday dangers.  Employers can...
---