Nursing mothers, employers and the DOL – discuss
August 19th, 2019
hrsimple
---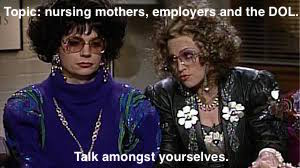 In a surprise announcement, the U.S. Department of Labor introduced Linda Richman and Liz Rosenberg (pictured) as hosts of the Supporting Nursing Mothers in the Workplace Online Dialogue during the week of August 19 through August 23, as well as a Twitter chat on Tuesday, August 20, 1:00pm - 2:00pm Eastern.
Kate Torgerson, founder and CEO of Milk Stork fully supports the dialogue: "People talking, people understanding, people realizing working and breastfeeding can co-exist – win-win-win."
Discuss, talk amongst yourselves, coffee talk.