Remote Work: How to Keep Your Team on Track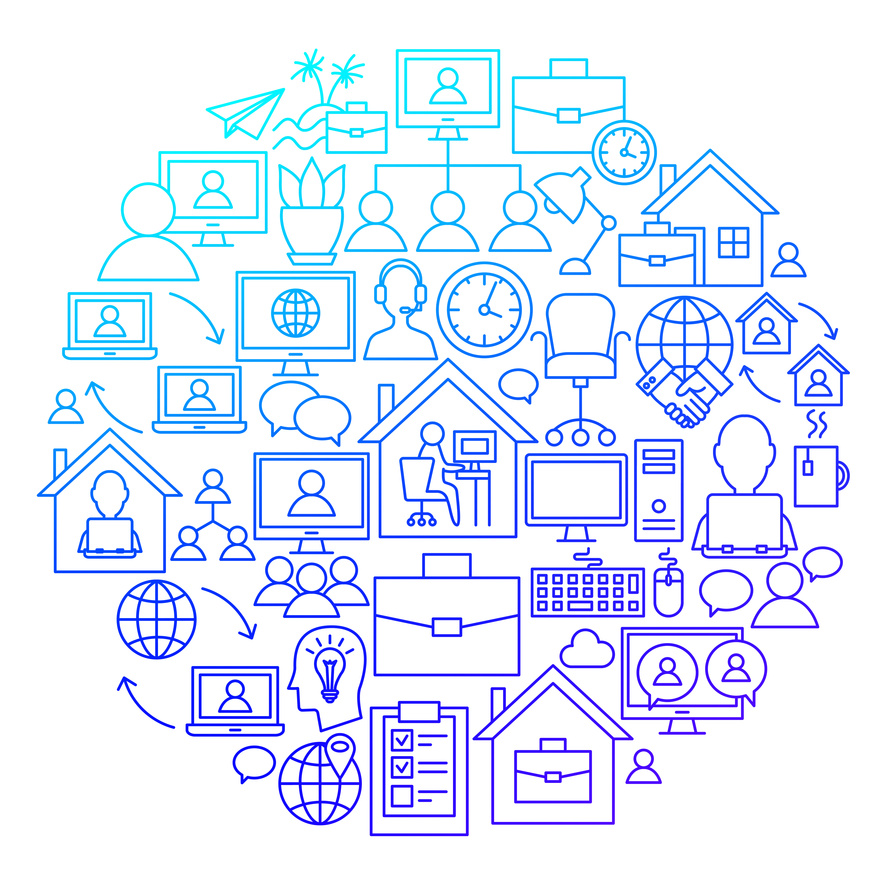 Remote Work: Steps Every Employer Should Take to Keep Your Team on Track
You may have lost count of the number of days you and your team have been working from home since the start of the pandemic - or the times you stared out the window longing for a pot of break-room coffee - which is an indication that remote working may be more of a permanent move than many had originally thought. In fact, as of 2022 26% of U.S. employees work remotely. As we settle into this employment reality employers and managers have to adjust their practices to ensure they get the most out of their teams, and that their teams get the most out of them. Here we will outline some recommendations on how to keep your staff productive and on track — from how to hire, how to manage, when to review and what to communicate.
Peter J. Gillespie, partner at Laner Muchin notes, "Managers in remote work organizations need to come up with strategies about how to provide employees what they need to stay productive regardless of location and create an overall positive work experience. Employees who work remotely need to remain motivated and engaged even without direct 'face time' with their co-workers."
Hire appropriately
Simply put, not every role is right for remote work, and not every candidate is cut out to be a remote worker. The first step in hiring for an open role should be to question if the requirements can be fulfilled by an offsite employee, or if there are components that require in-person elements. Just as you would when drafting any job posting, consider these questions:
Does this job require access to equipment or machinery that can not be provided or used in a remote setting, without incurring costs?
Would this person need to interact with staff that is largely onsite or offsite?
Is this a role that involves in-person client interaction or frequent meetings?
Is the work this position performs able to be viewed electronically or is there a tangible element to it?
It is important for employers to accurately determine whether the role in question is a good fit for a remote team member before they begin the hiring process as it will be a factor many candidates consider in considering whether they want the job or not. There are plenty of job fish in the career ocean, right? Gillespie notes this will work to your advantage, "Employers should be transparent in job postings as to the issue of whether the position is remote. The issue will undoubtedly be on the mind of the applicant and employers who are flexible on remote work can cast a wider net for applicants."
Once you have determined the role works well for an offsite employee an employer should consider what personality traits and skills the right candidate should possess. Not every employee is well suited for working in a virtual environment - translation: not every employee might be a "works well independently" type. Successful candidates will be those who:
Are self-disciplined and able to manage their time with little oversight.
Can communicate well virtually, through email and messaging.
Are trustworthy and dependable.
Beyond the basic productivity related requirements of a remote job, employers should also consider the emotional implications. Remote work can be isolating and complicated. Candidates who rely on the energy of others to be productive or who thrive on collaboration may not be the best fit for a position with limited in-person interaction. Additionally, employees who have consistent issues with loneliness, depression, and/or difficulty forging connections will need to consider the realities of remote work before they take a position, and employers should be sure to communicate the solitary nature of the position.
Set clear expectations
A common concern with remote work is that productivity will falter, with employers envisioning (sometimes accurately) the staff napping throughout the day, when studies (Apollo, 2023) have found work from home resulted in a 13% performance increase. For some job arrangements lowered distractions, fewer sick days and better work/life balance have led to a productivity boom, but more goes into managing a team than tracking productivity.
Whether IRL or in a tiny box on your computer screen, monitoring and shaping employee performance is at the heart of most managers and business owners responsibilities, so how can you ensure your team is running smoothly? Clearly outlining responsibilities, tracking progress and establishing a regular reporting cadence (weekly, or bi-weekly) can help keep your staff doing what they are meant to do, when they are meant to do it (and hopefully avoid them doing what they aren't meant to do it, when they aren't meant to be doing it).
Similar to setting important and clear milestones, employers should outline the details of how the role should operate remotely, including: Does the employee need to come to all virtual meetings with their camera on?
Do they need to send end of day or week recaps?
Will they ever need to report in person?
If you aren't painting a clear picture of what the employee should do, you can't expect them to do it.
"Employees who work remotely often lose the ability to get immediate feedback on work or quick clarifications on job expectations. These sources of uncertainty can impede productivity and hurt morale. When employees are able to plan around clear instructions and can refer back to a document that clearly lays out expectations, there is far less chance of wheel-spinning with the employee."
Encourage communication
Sounds like a Captain Obvious statement but, the best way to know how an employee is doing is to talk to them. If the employee spends any time in the office this could be as easy as swinging by their desk to check in, while in a remote world this requires more of a concerted effort on a manager's part. Set a regular one-on-one meeting with your employees and set an agenda of what you would like to go over.
Beyond communicating to you, you want to make sure the whole company is speaking to each other. The sharing of ideas and updates used to take place in a relaxed way around the office – water cooler (wow, flashback), breakroom, conference room, hallways – but now it requires a bit more effort. Setting up company instant messaging may help employees have open dialogue, as will company-wide updates and all-hands meetings.
Regular communication also helps employees feel connected to the company at large which has proven to result (Tsipursky, 2022) in higher levels of employee satisfaction, which in turn results in career longevity. We call that a win/win/win.
Take reviews seriously
"When employees are working remotely, they can sometimes lose a sense for whether they are meeting or exceeding expectations, because they have lost access to visual cues available to in-person employees. Employees need timely feedback so that their performance can be addressed or praised, and to reduce the chance of the employee feeling lost."
The performance review has been a long standing tool for maintaining employee performance. Set on an annual or bi-annual basis, the employee review gives employers a chance to look back on how an employee has been performing, and where there may be room for improvement. It also creates a space for employees to review themselves, and reflect on how effective they are being. These reviews are a good time to be honest, productive and collaborative, and set a path toward improvement. Gillespie notes the importance of the review process, "When dealing with remote employees, managers should understand that employees should be provided the opportunity to discuss performance and receive regular feedback. If there is a chance that an employee might already feel adrift, not having a chance to talk to a manager over a negative comment on a review likely will not improve matters." Conducting a performance review in a remote setting can be a bit of a minefield, and reviewers should be careful to handle it as tactfully as they would in an office setting. Eliminating distractions like background noise and alerts, making sure to send the employee paperwork in advance to follow along, and trying your best to maintain a level of digital eye contact can go a long way.
Performance reviews also create documentation of employee shortcomings which can be helpful to support a termination in the future - you know, if the whole remote employee situation just doesn't work out.
—------
FURTHER READING:
Are You Thinking About Bringing Your Employees Back to the Office? Read This First - Fisher Phillips
WFH vs. RTO: what really works for your business - Evil HR Lady
—----
Laner Muchin, LTD
Peter represents and counsels management on a wide array of employment law-related issues, including workplace safety and health, wage and hour laws, prevailing wage issues, covenants not to compete, discrimination and harassment, wrongful discharge, whistleblower claims, class actions, hiring, discipline, promotion and dismissal decision-making, workplace privacy, and statutory compliance. He provides employers with strategic advice to help meet their objectives while reducing potential litigation risks.
Peter handles litigation in both federal and state courts as well as claims pending with state and federal administrative agencies including the Occupational Safety and Health Administration, the Equal Employment Opportunity Commission, the U.S. Department of Labor, the Illinois Department of Human Rights, and the Illinois Department of Labor.
—--
Tsipursky, Dr. Gleb. "Workers Are Less Productive Working Remotely (at Least That's What Their Bosses Think)." Forbes. Forbes Magazine, November 4, 2022. https://www.forbes.com/sites/glebtsipursky/2022/11/03/workers-are-less-productive-working-remotely-at-least-thats-what-their-bosses-think/.
"Surprising Working from Home Productivity Statistics (2023)." Apollo Technical LLC, January 4, 2023. https://www.apollotechnical.com/working-from-home-productivity-statistics/#:~:text=A%20study%20by%20Standford%20of,fewer%20breaks%20and%20sick%20days.
"25 Trending Remote Work Statistics [2023]: Facts, Trends, and Projections." Zippia, March 1, 2023. https://www.zippia.com/advice/remote-work-statistics/#:~:text=26%25%20of%20U.S.%20employees%20now,than%20one%20that%20doesn't.